Nurture at West Winds Primary School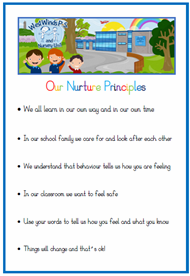 Foundation Stage Nurture Classroom Poster
Key Stage 1 Nurture Classroom Poster
Key Stage 2 Nurture Classroom Poster
A nurture group is a small class of eight to ten children and acts as a kind of bridge between home and school for those children who are having a hard time in their mainstream class.
All sorts of children join nurture groups, for all sorts of reasons. The point of nurture is to encourage the child to want to go to school, to take pride in their learning and to learn and grow at a pace that is right for them.
The six principles of nurture are:
Children's learning is understood developmentally
The importance of nurture for the development of well-being
All behaviour is communication
The classroom offers a safe space
Language is a vital means of communication
The importance of transition in children's lives
In our school, the nurture principles have been adapted and are displayed in every classroom.
In 2017, West Winds Primary School were awarded the Marjorie Boxall Quality Mark Award which involves assessing the work of a nurture group against a set of quality standards. It acknowledges good practice and is an assurance that the provision is of the highest quality.
A copy of our School Nurture Policy is available to view in the Policies section of the website.
West Winds Primary School and Nursery Unit, Sunderland Park, Newtownards BT23 4RQ Phone: 028 9181 5212